Here is a resting place for my tabletop roleplaying game characters — some living, some dead, all dreaming as they are dreams. At some point I plan to convert at least some of these into nice little formatted doohickeys. Less likely but still possible is commentary on each of them. While I will only update characters I am currently playing occasionally, I will be scouring my records for any characters I've played, going back as far as I can, so watch this space for some real deep cuts!
Most of the games I play these days are via Discord, and the rules I typically use are simple enough that a character can be adequately represented in a text document. I find the fact that both my characters and my website are created in Notepad to be very appropriate.
To everyone who helped make these characters possible, thank you.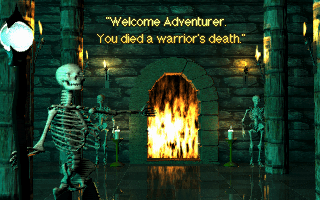 18 str is 666

NORMAN "NORMIE" ATOMIC
===========================
FIGHTER 1
- 1/8 HP
- d8 damage, 3x actions per combat round
- 1 armorless block/combat

BOON: Cowboy-Acting Domestic Helper
MUTATION: Baseline Human
BACKGROUND: Techno-Chosen Outcast
VICE: Gluttony
BAGGAGE: 9,900 cc in debt
3 SKILL POINT
100 EXPERIENCE

GEAR
===========================
134 CC @ PERSON

01. 1x  GLOCK
02. 1x  BONKING STICK
03. 1x  NET MADE OF CAT 6.66e
04. 1x  HOLY SYMBOL
05. 1x CAGE
- 1x CLARENCE (CHICKEN)
06. 3x HOLY MTN DEW
07. 1x PC CASE CUIRASS
08. 1x LAPTOP GROIN FLAP
09.
10. 
11.
12.

RELATIONSHIPS
===========================
RETAINER -- GEL (with a hard G)

---

HELLA CEDREZ de SAN PALO FERRO

S 15 + to hit, dmg
I 11			       Poison 12
W 07			    Paralysis 13
D 13			      Devices 14
C 13			       Spells 16
X 13			       Breath 15

AC 16 - red enamel cuirass and morion
HP 5/5
XP

============
EQUIPMENT	11/14
- buckler
- rapier (finesse)
- spear (reach)
6 javelins [2]
- rations 
- 50' rope
- torches
- bottle of spirits
2 brace of throwing knives [2]

cards, marked

---

Chadwick "Nomad" Cholmondeley-Featherstonehaugh

STATS
HP: 6
STR: 07
DEX: 15
WIL: 09		TOTALLY HYPNOTIZED

PERSONAL TRAITS
Mood: preternaturally relaxed
Secret Regret: said a mean thing to a friend ten years ago 
			   (Bradshaw "Wanderer" FitzHeinrich)
Trying to: have enough to drink 

YOU PACKED
-baton (d6 damage)
-periscope
-hot peppers
-a plastic "birthday princess" tiara

---

Akatsuki Daikatana, Shujin no Kuroi Kaen (Bobert White)

ROLE: Chuuni
GOOD: Endurance & Bravery
BAD: Overconfident

COSTUME: Akatsuki looks like a stereotypical Final Fantasy character: 
black overcoat, fingerless gloves, cloth bandages, way too many belts. 
To be clear, this is not his "Halloween costume" as he wears an outfit 
like this almost every day. Akatsuki is not wearing a costume because 
he claims that if he takes the bandages (a.k.a. burning seals) off when 
not in a magic circle (his bedroom) the demon inside of him will be 
freed and destroy the world.

ACCESSORY: Headband
TREAT BAG: Anime body pillow case stolen from older sister
ITEM: Crimson Flail of Righteous Agony (Yo-yo marked with magic runes 
[the ninja sword his uncle  bought him 
at the mall got confiscated last week])

GOAL: Keep the demons at bay with candy

rumor: Deshawn Butler saw a UFO crash

INVENTORY:
- Flail
- Glowsticks
- Pillowcase
- MALL KATANA
- Pesticide d6 

CANDY: 
- Candy corn
- Mints
- Gumdrops
- Jolly Ranchers
- Sour Patch Kids
- Tootsie Rolls
- Swedish Fish
- M&Ms 
- Heath Bar
- Kit Kat
- Twix
- Reese's Cups
- Cadbury Eggs
- Warheads
- Candy Necklace

BUGS:
- Beetles
- Cockroaches
- Plastic Bugs

---

GIRUGAMESH

S 15 +1		Save 14
I 16 +1		Hear 2-
W 09 		Othr 2-
C 12 
D 09 
X 05 -1

BG Alchemist Apprentice

AC 12
HP 5/7
XP 1859
-----------------------------
GEARUGAMESH		34 d.	1 o.

- 1 rats
- 3 torch 
- waterskin
- bonking stick
x garrote
- textile armor 
- crowbar
- 50' rope
- thieves tools 
- glass vials
- metal tongs
- dead eagle owl

---

The Reverend Unless-Crystal-Dragon-Jesus-Had-Died-By-Being-Drawn-Apart-
By-Four-Giant-Horses-And-Pulled-To-The-Four-Utmost-Corners-Of-All-That-
Which-Lieth-Under-Heaven-For-Thee-Thou-Hadst-Been-Damned Smith

STR ??
DEX ??
WIS ??